Afgelopen week heb ik bij Basarz weer een bol buffelmozzarella gekocht. Deze mozzarella is zacht en romig en eindigt bijna elke weekend in een insalata caprese. Deze keer was het tijd voor iets anders.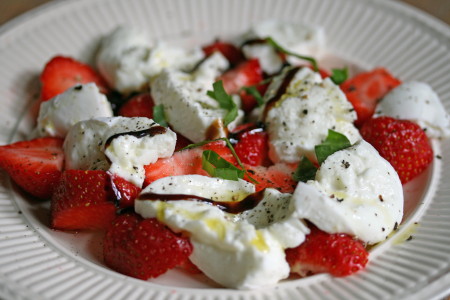 Een aparte combinatie, maar wel heel lekker. Mozzarella met aardbeien. Zorg wel voor rijpe smakelijke aardbeien en goede mozzarella. Een beetje zoete balsamico haalt de smaak van de aardbeien op.
Ingrediënten:
| bereidingstijd 5 minuten | 2 personen |
• 1 bol buffelmozzarella • 150 g aardbeien • zoete, stroperige balsamico (bijv. een glaze) • lekkere olijfolie, kies een fruitige of een peperige soort • paar blaadjes basilicum, in reepjes • peper
Bereiding:
Maak de aardbeien schoon. Halveer de aardbeien (grote aardbeien in vieren) en verdeel over twee borden. Snijd of scheur de mozzarella in stukken en leg tussen de aardbeien. Maal peper over de salade. Sprenkel er een klein beetje balsamico en olijfolie en bestrooi met de basilicum.