Net zoals een groot aantal collega-foodbloggers, kreeg ook ik de vraag of ik Cardini's Caesar dressing wilde testen. Ik kende de dressing al en heb hem meestal wel in huis, dus ik zei vanzelfsprekend geen nee. Bijkomend voordeel was dat ik een aantal vrienden blij kon maken met een fles. De tegenprestatie is wel het plaatsten van een gerecht met Cardini's Caesar dressing.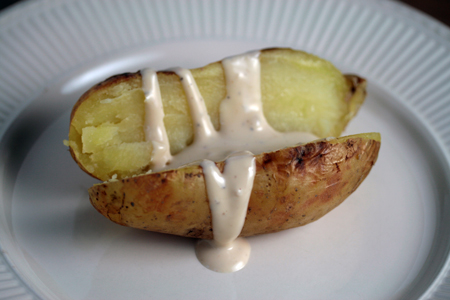 Alleen heb ik al eerder een aantal Caesar Salad recepten geplaatst. Deze drie gerechten kun je maken met zelfgemaakte Caesar dressing of met Cardini's.
De lekkerste Caesar Salad
Caesar Salad
Caesar Sandwich
Maar ik heb ook iets nieuws ontdekt. De dressing smaakt ook uitstekend over een gepofte aardappel!