Tja, waar zou de naam 'drie in de pan' nou vandaan komen? Ik vind het wel mooi zo'n functionele naam. Drie in de pan, bak je met z'n drieën tegelijkertijd. Alleen wat bak je dan? Dikke pannekoekjes met rozijnen en eventueel appel.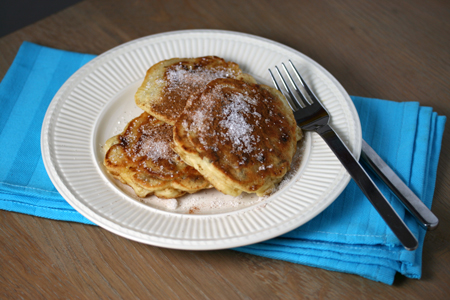 Ingrediënten:
| bereidingstijd 20 minuten | 2-4 personen |
• 200 g zelfrijzend bakmeel • 200 ml melk of Alpro Soya original • 1 ei • snufje zout • 1 (zure) appel, in kleine blokjes • 75 g rozijnen • eventueel suiker en kaneel • boter
Bereiding:
Klop een dik beslag van het zelfrijzend bakmeel, de melk, het ei en een snufje zout. Roer de rozijnen en appel door het beslag. Voeg eventueel nog 1 el suiker en wat kaneel toe.
Verwarm een klontje boter in de koekenpan en schep drie hoopjes beslag in de pan. Bak de pannekoekjes goudbruin aan beide kanten. Serveer eventueel met stroop of suiker.