In drukke tijden volstaat een snel soepje. Dan natuurlijk wel zelf gemaakt en met voldoende groenten. Lekker met pitabroodjes en (zelfgemaakte) hummus.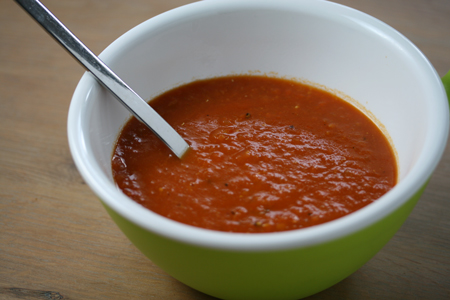 Ingrediënten:
| bereidingstijd 30 minuten | recept voor 2 personen |
• 1 ui, gesnipperd • 1 wortel, geraspt • snuf chilivlokken • 1 tl komijnzaad of gemalen komijn • 3 el (rode) linzen • 1 blik tomatenblokjes • 300 ml groentebouillon • 1 limoen • eventueel crème fraîche

Bereiding:
Verwarm 1 el olijfolie in een pan. Fruit de ui en wortel 5 minuten tot ze zacht beginnen te worden. Voeg de chilivlokken en het komijnzaad toe en fruit die 1 minuut mee.
Voeg de linzen, tomatenblokjes en bouillon toe en breng de soep aan de kook. Kook 15-20 minuten tot de linzen gaar zijn.
Pureer de soep kort met een staafmixer. Voeg rasp van de limoen toe. Proef of de soep nog extra zout, peper of komijn nodig heeft. Serveer de soep met een partje limoen ernaast en eventueel een schepje crème fraîche.
Gebaseerd op een recept van BBC GoodFood