Deze salade vind ik lekker om mee te nemen naar mijn werk. Hij is zo klaar en even laten staan kan geen kwaad. Misschien wordt hij daar zelfs wel lekkerder van. En het is nog gezond ook. Je kan natuurlijk ook blokjes ham of fêta erdoor doen in plaats van de tonijn.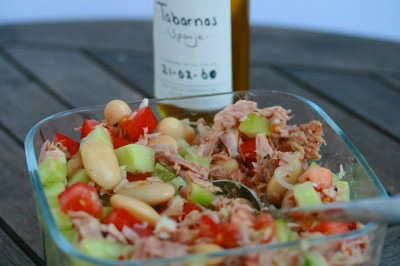 Ingrediënten:
| bereidingstijd 10 minuten | 1 persoon |
• 1 blik Spaanse reuzenbonen (425 g) • 1/3 komkommer, in kleine blokjes • 1 tomaat, in kleine blokjes • 1 sjalotje, gesnipperd • ½ blikje tonijn (kan ook zonder) • 2 el olijfolie citroensap of azijn naar smaak • zout en peper
Bereiding:
Laat de reuzenbonen uitlekken in een zeef of vergiet en spoel ze even af.
Doe de bonen samen met de komkommer, tomaat, het sjalotje en tonijn in een schaaltje. Breng op smaak met de olie, azijn, zout en peper.