Wederom een gerecht voor op de barbecue, maar de grillpan volstaat ook. Je kunt voor dit gerecht het best cocktailgarnalen gebruiken. Dan heb je het meest plezier van de peterselieboter. Ongepelde garnalen kunnen ook. Haal de garnaal na het pellen gewoon door wat boter onderin de schaal.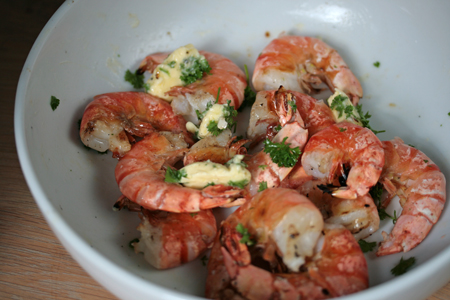 Vieze handen gegarandeerd, maar wat is er nou fijner dan met je handen eten? Servetten en water en zeep zorgen dat je zo weer van je vette handen af bent.

Ingrediënten:
| bereidingstijd 20 minuten | recept voor 2-4 personen |
• 500 g rauwe garnalen (gepeld met staart of ongepeld) • 1 el olijfolie • 3 tenen knoflook, fijngesneden • zout en peper • 25 g boter, in blokjes • gehakte peterselie • citroensap
Bereiding:
Doe de knoflook, garnalen en olijfolie in een kom. Bestrooi met wat versgemalen peper en zout. Marineer de garnalen minimaal een kwartier.
Rijg de garnalen aan spiezen. Grill de garnalen een paar minuten aan beide zijden op de barbecue of grillplaat tot ze roze en gaar zijn.
Doe de hete garnalen in een kom en schep ze om met de boter en peterselie. Knijp wat citroensap over de garnalen en serveer. Lekker met vers stokbrood.