Sinds ik in het bezit ben van een Microplane Fine-spice grater (ondertussen al drie stuks) rasp ik alles wat maar te raspen valt. Knoflook, Spaanse peper, gember, nootmuskaat, chocolade, Parmezaanse kaas en limoen-, citroen- en sinaasappelschil. Vooral limoenschil is favoriet. Limoen heeft een meer aromatische smaak dan citroen en is daarom lekkerder in cocktails dan citroen. Ook lekker is deze sladressing voor de avocadosalade.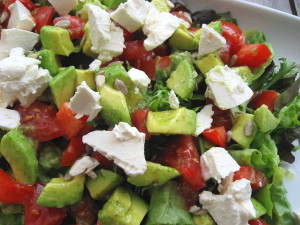 Ingrediënten:
| bereidingstijd 15 minuten | 4 personen |
• 2 zakjes veldsla of 1 zak jonge spinazie• 2 avocado's • 1 limoen, sap en rasp • 1 el walnootolie (of 1 tl pompoenolie) • 1-2 el arachideolie • 1/2 tl zout • 2 el pompoenpitten •  eventueel extra tomaat en fêta
Bereiding:
Maak een dressing van de limoensap en -rasp, zout en olie. Snijd de avocado in blokjes en roer door de dressing. Verdeel de avocado met de dressing over de salade en strooi er pompoenpitten overheen. Je kan natuurlijk ook pijnboom- of zonnebloempitten gebruiken. Ik heb de salade deze keer aangevuld met tomaat en fêta, maar dat is eigenlijk overbodige luxe.