30.08.07
Gister ben ik uit eten geweest, maar ik had nog een receptje over. Dit is heel snel klaar. Je kan voor de luxe variant gaan met gerookte zalm. Met alleen tonijn is het ook erg lekker.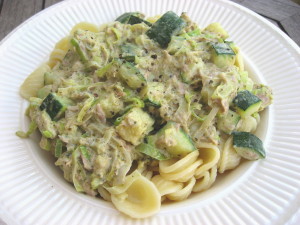 Ingrediënten:
| Bereidingstijd 20 minuten | 3-4 personen |
• 1 courgette, in kleine blokjes • 1 prei, in dunne ringen • 1 of 2 blikjes tonijn (gebruik er 2 als je geen zalm door doet) • 100 g gerookte zalm, in snippers • 250 ml crème fraîche • 3 el pesto of naar smaak meer • pasta voor 3-4 personen (farfalle of penne)
Bereiding:
Kook ondertussen de pasta gaar.
Verwarm in een koekenpan 2 el olijfolie. Bak daarin de courgette en prei totdat ze zacht zijn. Dit duurt een minuut of vijf. Zorg dat het vuur niet te hoog staat.
Doe de tonijn erbij en roer de tonijn even los. Voeg de crème fraîche toe. Warm de saus even door. Voeg dan de zalm toe. Breng op smaak met pesto en versgemalen zwarte peper. Serveer de saus met de pasta.