Voor deze salade heb ik een minneola gebruikt. Een minneola is een variant van de citrusvrucht 'tangelo'. Dit is een hybride vrucht ontstaan uit een kruising tussen mandarijn en grapefruit. De minneola is sappig en friszuur en daarom vind ik hem meestal lekkerder dan een sinaasappel. Maar je kunt prima een sinaasappel gebruiken voor deze salade.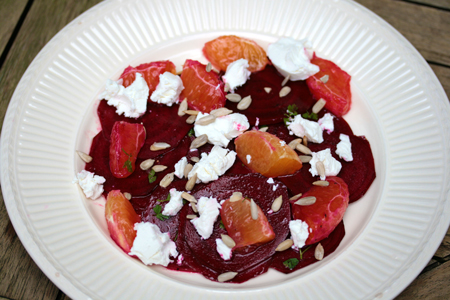 Voor een extra chique uiterlijk, kun je de minneola natuurlijk eerst met een mesje schillen en het vruchtvlees tussen de vliesjes uitsnijden. Ik vind dat te veel gedoe voor een salade die ik helemaal zelf ga opeten.
Ingrediënten:
| bereidingstijd 15 minuten | 2 – 4 personen |
• 2 rauwe bieten • 1 minneola of sinaasappel • 100 g zachte geitenkaas • wat peterselie, gehakt • 2 el zonnebloempitten
voor de dressing: • sap van 1/2 limoen • 3 el olijfolie • versgemalen zwarte peper • zout • 1 tl honing

Bereiding:
Schil de bietjes en schaaf ze met behulp van een schaaf in dunne plakjes (of doe dit in de keukenmachine of snijd ze met de hand). Doe de plakjes biet in een saladeschaal.
Pel de minneola, verdeel in partjes en snijd de partjes doormidden. Vang het sap op. Voeg sap en partjes toe aan de plakjes biet.
Maak de dressing en giet deze gedeeltelijk of geheel over de salade. Meng de salade even door.
Verkruimel de geitenkaas over de salade en bestrooi met de zonnebloempitten en peterselie.