Traditionele Bolognesesaus wordt gemaakt met o.a. gehakt, ui, wortel, bleekselderij, tomatenpuree, wijn en volle melk. Deze variant is vegetarisch. De gehakt heeft plaats gemaakt voor rode linzen en verschillende groenten. In dit geval courgette en champignons, maar je kunt paprika of aubergine gebruiken.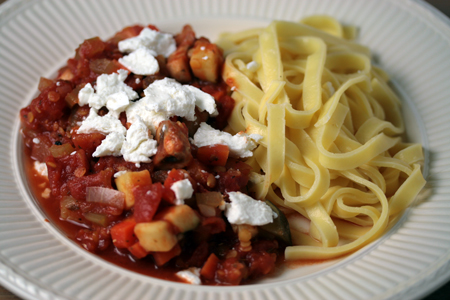 In plaats van een half blik water kun je ook rode wijn toevoegen. Neem wel rode linzen, deze zijn sneller gaar. Als je geen rode linzen kunt vinden, gebruik dan linzen uit blik.

Ingrediënten:
| bereidingstijd 45 minuten | 4 personen |
• 1 ui, gesnipperd • 2 stengels bleekselderij, kleingesneden • 2 wortels, kleingesneden • 4 teentjes knoflook, fijngesneden • 1 volle el tomatenpuree
• 1 el balsamico-azijn • 2 blikjes tomatenblokjes • 1/2 courgette, in blokjes
• 150 g champignons, in kwarten • 50 g rode linzen • 1 el oregano of Italiaanse keukenkruiden • (verse) tagliatelle • versgemalen peper en zout • Parmezaanse kaas en/of zachte geitenkaas
Bereiding:
Doe de ui, bleekselderij en wortel in een pan. Voeg 2-3 el water toe en kook de groenten zachtjes gedurende 8-10 minuten. Roer af en toe.
Voeg de knoflook, tomatenpuree en azijn toe en bak 1 minuut op hoog vuur mee. Voeg de courgette, champignons, tomatenblokjes, kruiden, linzen en een half blik water toe. Breng alles aan de kook.
Draai het vuur lager en laat de saus 20 minuten met de deksel op de pan pruttelen. Kook de tagliatelle volgens de aanwijzing op de verpakking.
Als de linzen gaar zijn, breng de saus dan op smaak met voldoende peper en zout. Serveer met de pasta en bestrooi met wat Parmezaanse kaas of verse geitenkaas.
Gebaseerd op een recept van BBC GoodFood