Deze fêtasalade was naar mijn smaak net iets te zout, maar dat komt waarschijnlijk ook door de Griekse fêta die ik gebruikt heb. Volgende keer vul ik de salade nog aan met blokjes tomaat, dat maakt het iets frisser. Verder een prima bruschetta.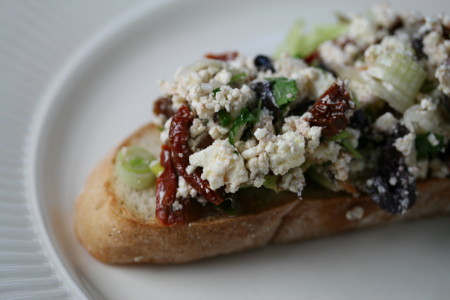 Ingrediënten:
| bereidingstijd 15 minuten |
• 250 g fêta • 75 g zongedroogde tomaten • 100 g kalamata olijven met pit • 2 lenteuitjes, in ringetjes • olijfolie • versgemalen peper • eventueel peterselie en/of dille • ciabatta • eventueel sla
Bereiding:
Verkruimel de fêta in een kom. Snijd de zongedroogde tomaten fijn. Ontpit de olijven en snijd de olijven in stukjes. Meng de tomaten, olijven en lenteui door de fêta. Breng op smaak met peper en een beetje olijfolie. Mocht je nog verse kruiden hebben, snijd ze fijn en meng door de fêtasalade.
Snijd de ciabatta in schuine plakken. Rooster de plakken brood in de broodrooster of in een koekenpan of oven. Beleg met een plukje sla en wat fêtasalade. Serveer direct.