Geen lekkere foto, maar wel lekker gegeten. Fajita's met (zelfgemaakte) guacamole, salsa en zure room. Je kunt ook biefstuk gebruiken in plaats van kip. Of maak een vegatarische variant met bijvoorbeeld courgette en aubergine. Verkruimel er wat geitenkaas overheen en "Klaar is Kees".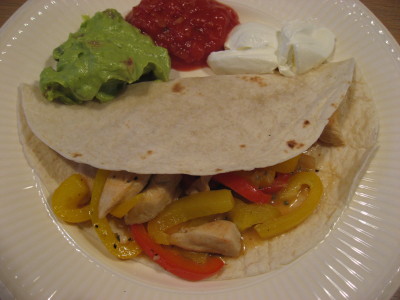 Ingrediënten:
| Bereidingstijd 20 min | 2-3 personen |
• 2 paprika's (een rode en een gele) • 1 ui • 300 g kipfilet • 1 zakje fajita-mix (Casa Fiësta) • 1 pakje tortilla's
eventueel: • zure room • salsa • guacamole
Bereiding:
Snijd de paprika's en kipfilet in reepjes en de ui in ringen. Bak de kipfilet in een koekenpan in 2 el olie bruin. Voeg de uien en de paprika toe en bak deze even mee.
Voeg het 100 ml water of bier toe samen met het zakje fajita-mix. Laat alles sudderen totdat de paprika's zacht zijn en de kip gaar. Dit duurt ongeveer 10 min.
Verwarm de tortilla's volgens de aanwijzing op het pakje. Zet de pan met de vulling op tafel samen met eventueel salsa, gaucamole en zure room. Laat iedereen zelf zijn tortilla's vullen.